Susan G. Komen – Chicago
Our goal in organizing Old Fat Guy Idol is to raise money for breast cancer research, in the ultimate hope of helping to find a cure for cancer. Our event began with Larry Meredith's participation in the Susan G. Komen 3-Day.  From 2010 – 2013, the donations from Old Fat Guy Idol have totaled over $18,000. The donations from Old Fat Guy Idol  also enabled others to participate in the 3-Day, increasing the total donation to the Susan G. Komen Foundation.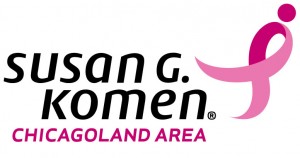 The 3-Day is no longer held in the Chicago area, but Old Fat Guy Idol will still support the fight for breast cancer. All proceeds from our event will be donated to Susan G. Komen – Chicago.  75 percent of the net proceeds generated by  Komen Chicago stay in the Chicagoland area, while the remaining 25 percent supports the Susan G. Komen® Grants Program for research, with many grants awarded to local Chicago institutions. Komen Chicago has awarded nearly $15 million towards the fight against breast cancer by funding grassroots breast health navigation, breast cancer screening and treatment projects, as well as global research.
In 2014, nearly $1.3 million was allocated across the 17 recipient organizations.
"These institutions share Komen's commitment and passion to helping everyone in the Chicagoland area receive proper detection and care so we can eradicate breast cancer forever," said Leticia Kees, Director of Community Programs & Partnerships for Susan G. Komen – Chicago. "These organizations play a significant role in their communities and can provide access to resources on a local basis. Komen believes these grass root programs are a critical part of defeating breast cancer. We look forward to working with them to support their efforts to help as many women as possible across the five-county region."
For a list of the 2014 grant recipients: http://www.komenchicago.org/about-us/news/Susan-G-Komen-Chicago-Announces-2014-2015-Grantees.html